Atlantic Imbizo Conference Centre is conveniently located in the middle of the bustling Victoria & Alfred Waterfront of Cape Town. The site offers a unique setting, adjacent to the city's working harbour, and is in the midst of popular restaurants and hotels. The Conference room has floor to ceiling windows, with stunning views. State-of-the-art audio-visual equipment is available, plug points and internet connectivity.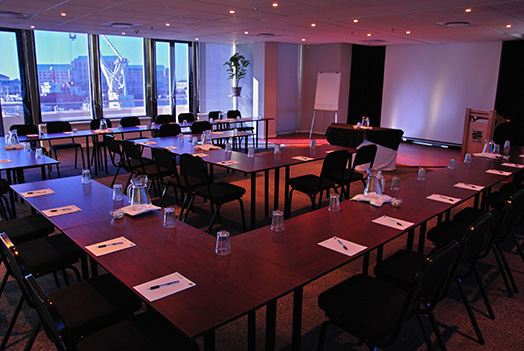 Located on Fish Quay in Cape Town's V&A Waterfront, this conference centre is 15km away from Cape Town International Airport.
The GPS co-ordinates are -33.90771475, 18.4224844
The centre is easy to reach on foot from hotels in the area and conveniently accessible via hired vehicle or taxi. Cape Town's MyCiti public bus service has a stop within the V&A Waterfront.
Welcome reception
The FOIS 2018 welcome reception is at the rooftop of the conference venue.
Conference dinner
The conference dinner venue is Karibu Restaurant, 156, The Wharf Centre, V & A Waterfront, Cape Town. This is only a few minutes walk from the conference venue (if you walk straight and not be distracted by the wheel, views, museums, shops etc.):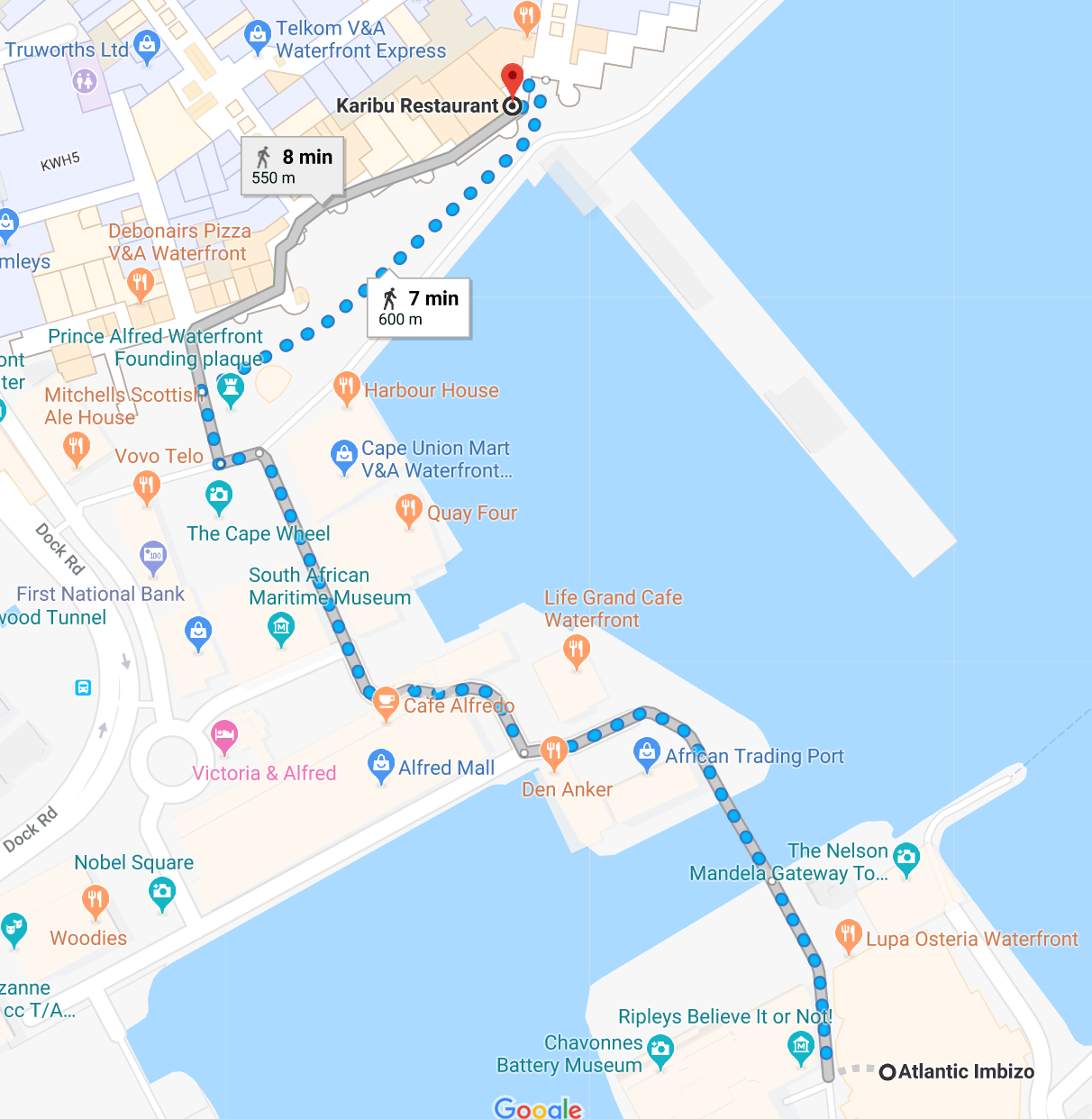 Time: 19:00 for 19:30. (Practically, this means you can arrive anytime in those 30 minutes.)
Accommodation
Suggested/special rate accommodation is listed in this FOIS Accommodation form.
Travel information
Getting to South Africa
Cape Town is a major international tourist destination. Visit the official Cape Town Tourism website at http://www.capetown.travel/ for more information on accommodation, public transport, weather, health & safety guidelines and local customs.
There are several airlines flying directly on Cape Town, such as KLM, Lufthansa, British Airways, Emirates, and Turkish Airlines. The first three tend to have practical flight times (e.g., to get a good night's rest), but comes at a cost, whereas the latter may have a short transfer in the night but are much more economical. The other option is to fly via Johannesburg, and from there to Cape Town, which works fine as well (you might miss the connection if it's only 1h transfer, but there are very many flights between the two cities, so then you'll just get on the next one–don't worry).
Travelling in Cape Town
Airport Transfers: MyCiti Buses (A01) depart every 30 minutes on the hour and half hour to/from the Cape Town International Airport to the Civic Centre in the CBD. Please see route maps and time table here.
 Getting around the city: MyCiti buses run throughout the CDB area and to the airport. This Bus Rapid Transit system provides easily accessible and frequent public transport. Cards must be bought and loaded with credit before departure on the buses. Cards available at the Cape Town International Airport or the V&A Waterfront. For information about MyCiti Bus routes, fares and timetables visit www.myciti.org.za.
An app is available to download onto your smartphone.
If you take the bus to the conference venue: you need Mycity line 104 (the yellow line on the map, on the left, mostly next to the beach), and use the bus stop "Waterfront silo" (150m from the venue) or "Nobel square" (200m from the venue).
Visa
On entry to South Africa, a visitor's permit is required by international travellers who have permanent residence outside South Africa and who wish to visit the country on a temporary basis for tourism or business purposes for a period of 90 days or less.  The permit's period of validity is calculated from the date of entry into the country. Requirements for visitor's visas differ from country to country and each application is treated as an individual case. See visa requirements by country. [http://www.home-affairs.gov.za/index.php/immigration-services/exempt-countries]. (in short: there a many visa-exempted/stamp-in-passport upon arrival countries)
Important information for those travelling to South Africa with minors under the age of 18 years. Minors (children under the age of 18 years) are required to produce, in addition to their passport, an Unabridged Birth Certificate (showing the particulars of both parents) as well as written permission from both parents/ guardians authorising the child's travel when entering/ exiting South African ports of entry.
Other
There is NO malaria in Cape Town, and NO ebola either. The tap water is safe to drink. There is sufficient water by now to avoid a 'Day Zero' even in 2019 (it has been raining a lot, finally). Vaccination information: https://wwwnc.cdc.gov/travel/destinations/clinician/none/south-africa.